Before the TAS Trimmer, life was different. Irrigation maintenance techs spent days either on their hands and knees digging around sprinkler heads with a knife or bent over each sprinkler head with a back breaking manual tool. Neither option was desirable or efficient. This is why I invented the TAS Trimmer, sprinkler head trimmer, for irrigation maintenance.
The TAS Trimmer blade mounts on any straight shaft line trimmer (2 or 4 cycle engine only). Once installed, the TAS Trimmer is ready to trim grass away from sprinkler heads, valve boxes, yardage markers and tee markers in a flash. The job of irrigation maintenance that once took days of back breaking work can now be done in just hours. The amount of time and energy saved is so great that it's nearly immeasurable. Considering the affordable price and the amount of money saved, it's really no wonder the TAS Trimmer is the #1 choice of landscape & golf course irrigation professionals.
-Ted Scovitch, President/CEO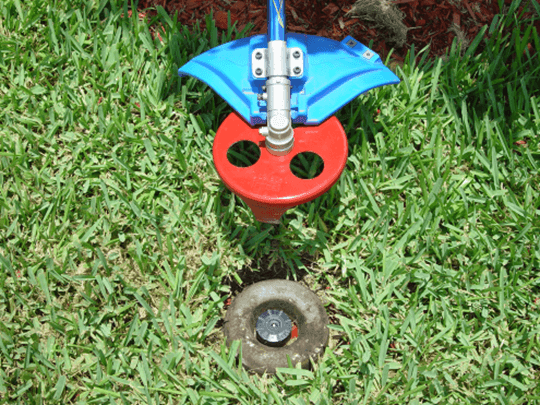 The TAS Trimmer 7" model was the first & original model of the TAS Trimmer irrigation product line.
TAS Trimmer Models
TAS Trimmers come in 10 different models that are categorized into two groups:
The Landscape Models are the 7" and the 3.75". They're used by Landscape Professionals at homes, city parks, cemeteries, on sports tur and anywhere that pop-up irrigation systems are installed.
The Golf Course Models include the GC-EBR 4.5, GC-5.5H, GC-6.25, 7", GC-7.5H, GC-7.75H, GC-8, GC-8.5E and GC-10. These models are used at golf courses to trim the grass around all brands of irrigation systems including Rainbird, Hunter, Toro, Buckner, Bear, R.L. Nelson, K-Rain, Legacy, John Deere and Weathermatic.
Installation of the TAS Trimmer
Bent shaft line trimmers are not approved for use with the TAS Trimmer.
The TAS Trimmer fits any straight shaft line trimmer on the market and mounts like a brush cutter attachment. Simply remove the original line trimmer head and attach the TAS Trimmer using the brush cutter adapter kit for your make and model line trimmer.
Brush cutter adapter kits supplied by your local (brand) power equipment dealer
ECHO brand line trimmers will need the 20mm bushing - supplied by your TAS Trimmer dealer upon request
BENT SHAFT LINE TRIMMERS INCLUDING BATTERY POWERED LINE TRIMMERS OR ELECTRIC OR BATTERY POWERED DRILLS CAN NOT BE USED WITH THE TAS TRIMMER UNDER ANY CIRCUMSTANCES.
Using the TAS Trimmer
When using the TAS Trimmer, slowly increase RPM's and lower over sprinkler head to be trimmed.
Always pivot from left to right. This will provide maximum efficiency.
Always wear protective eye wear and body wear when using this product. Do not operate around people or animals.
Read instructions carefully before using the TAS Trimmer. Instructions are provided by your dealer.
TAS Trimmer Application Chart
The application chart can be used to determine which TAS Trimmer head to use based on your make and model irrigation system. Click the link below to download the TAS Trimmer application chart.